Media and the Public Sphere 2016
International Conference

Media and the Public Sphere 2016
Empowered Audiences in the Digital Age
University of Georgia, Athens, USA | October 21 - 22, 2016
Organized by Cox International Center (U. Georgia), Institut de la Communication (U. Lion 2) & the Center for Research in Communication (NUPSPA Bucharest)
Sponsored by the Thomas C. Dowden Media Industry Research program
Call for papers & Guidelines | Keynote speakers | Program | Organizers & Scientific commitee
Venue & Accommodation | Registration & Fees | Contact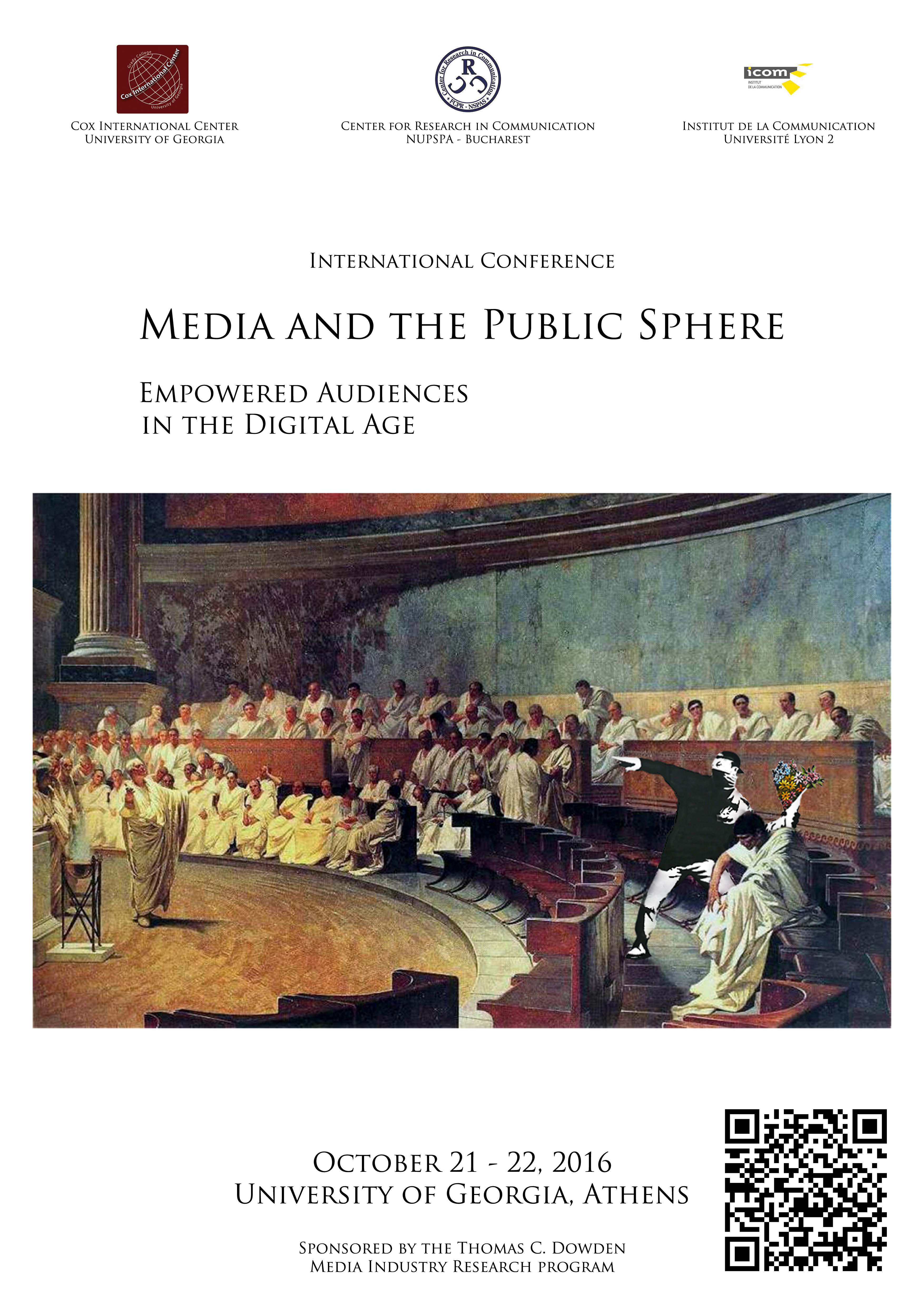 Empowered audiences now at least partly control many communication processes that, in the 20th century, were dominated by communication industries and institutional and political elites. Today, digital technologies enable individual citizens to speak on a global platform, access content of their choosing on their own schedule from non-traditional sources, and organize powerful social and political movements without soliciting help from the media industry. This power shift from industry control to audience control is upending communication industries -- and the public sphere itself.
This international conference will bring together communication experts in media, audience studies, audience research, journalism, advertising, and related fields to discuss a broad range of topics related to audiences, the media and the public sphere. Of particular interest are papers on current challenges and techniques in audience research – both applied and scholarly – audience studies, audience economics in media and advertising, demediazation in sociopolitical movements, and research on all issues related to media and the public sphere in the 21st century.
In addition to scholarly research on these issues, the conference will include workshops on current issues and approaches to audience research and the changing relationships between communication industries and audiences. The workshops will be led by media industry experts in audience, content, marketing, sales and technology research.
The 2016 conference, which is the sixth annual Media and the Public Sphere conference, is jointly organized by The University of Georgia, Institut de la Communication, Université Lyon 2, from Lyon, France, and the Center for Research in Communication, NUPSPA, Bucharest, Romania. The conference location rotates among the three organizing institutions and, this year, will be held in Athens, Georgia, which is near the city of Atlanta, in the United States. Previous Media and the Public Sphere conferences have drawn participants from countries such as France, Romania, the United Kingdom, Mexico, Brazil, India, Malaysia, Kuwait, Australia, Turkey, Israel and the United States.
See also: Media and the Public Sphere 2014 | Media and the Public Sphere 2013
---