News
Dec 8, 2017
International conference - Semiosis: Differences and Similarities
---
The second edition of the International Conference Semiosis in Communication: Differences and Similarities will be organized by the National University of Political Studies and Public Administration, Romania (NUPSPA), with the participation of the Southeast European Center for Semiotic Studies (SEECSS) at New Bulgarian University (NBU), Sofia, Bulgaria; the Semiotics and Visual Communication Research Lab at Cyprus University of Technology, and under the auspices of the International Association for Semiotic Studies (IASS-AIS). It will be held in Bucharest, Romania, from the 14th to the 16th of June, 2018.
This conference explores the role of semiosis in communication. As such, the conference offers an insight towards the epistemological relations between semiotics and other approaches to communication coming from perspectives such as sociology, philosophy of language and communication theory.
Conference website: link.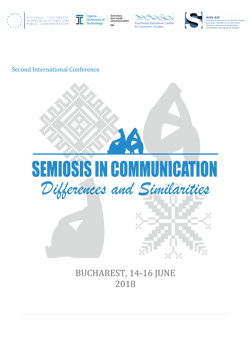 See all news & alerts
---