1989, ANNUS MIRABILIS. THREE DECADES AFTER: DESIRES, ACHIEVEMENTS, FUTURE, by Florin Abraham, editor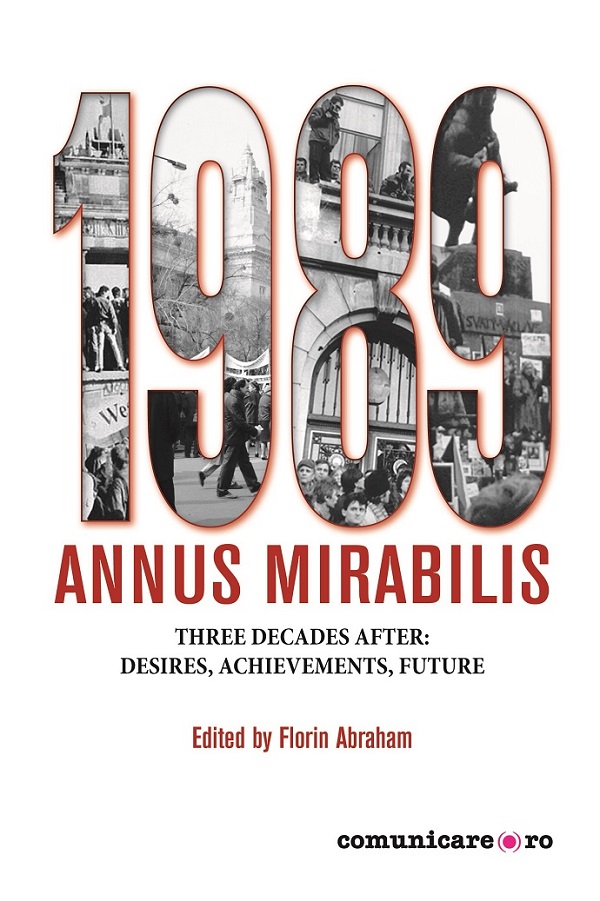 ISBN: 978-973-711-625-3
Nr. pagini: 360
Format: 15,5 x 23,5 cm
Preț: 50,69 lei 
Proiect susținut de European Network Remembrance and Solidarity (ENRS) și Ministerul  Culturii din România
Despre carte:
Volumul reunește cincisprezece studii prezentate în cadrul conferinței intitulate "1989 - Annus Mirabilis. Three decades after: Desires, achievements, future", organizate de European Network Remembrance and Solidarity (ENRS) în parteneriat cu Facultatea de Comunicare și Relații Publice din cadrul SNSPA și Institutul Național pentru Studiul Totalitarismului din cadrul Academiei Române, în perioada 19-20 noiembrie 2019, la București. 
"The book offers, through several case studies, an excellent synthesis on the Revolutions of 1989, as well as on the transition to democracy and the market economy. The authors of the studies present the complexity and contradictory nature of the geopolitical changes since the end of the Cold War. In other papers of the book, the authors try to explain what we did right and where we went wrong during the transition process. The authors try to provide answers to important questions, but they also urge us to ask our own questions. All these scientific reflections on the recent history have a contribution to better understand the past and shape the future. That's why it's worth reading!"
– Professor Remus Pricopie
"1989 Annus Mirabilis showcases the complexity of the path of Central and Eastern European societies from communism and totalitarianism to a free market economy and democracy, in the context of European and international developments at the end of a terribly contorted century. Which helps us see what we did well and how we could make it even better!"
– Professor Vasile Pușcaș
Volumul include articole semnate de: 
Florin ABRAHAM, Daunis AUERS, Jordan BAEV, Alina BÂRGĂOANU, Ana-Maria CĂTĂNUŞ, Flavia DURACH, Michael GEHLER, Constantin HLIHOR, Mihail E. IONESCU, Łukasz KAMIŃSKI, Anthony KEMP-WELCH, Peter JAŠEK, Juraj MARUSIAK, Ferenc MISZLIVETZ, Adrian POP, Vassil PRODANOV, Bogdana TODOROVA, Ivka TZAKOVA
Mai multe detalii, pe pagina Editurii comunicare.ro.